Well I suppose it's not enough to work
four legs at a time
. It was a great deal of fun, especially on the 10th when I was sitting in a waiting room at Quest. One of the children sitting nearby said to his mom that I was making a reindeer. Actually the color is perfect for that and the way my circular needles held
all the legs together
it looked like I might just work all the way up the body that way. I suppose that could be a possibility for a pattern with legs attached like an actual animal like the Pixie hounds and not attached like a doll, like the llama.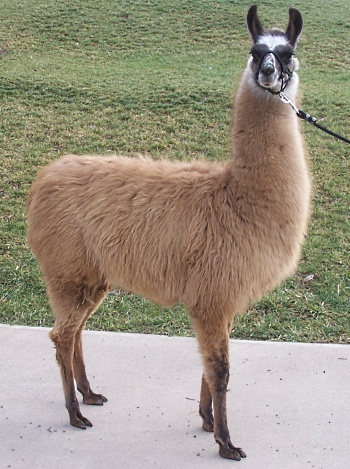 http://www.llamalove.com/catalog/escalade08.htm
From here I continued my grand plan for the drama llama llama by attempting to mimic the dramatic color scheme of a few similarly colored llamas.
http://www.oakrestllamas.com/femalesforsale.html


Next I'm focusing on the colors on the face. It's a bit hard to tell, but I plan that the dark brown areas will be under the eyes. I'm crossing my fingers that it's going to work out okay. It is intarsia in the round using a technique I learned from the Inside Intarsia with Anne Berk dvd.